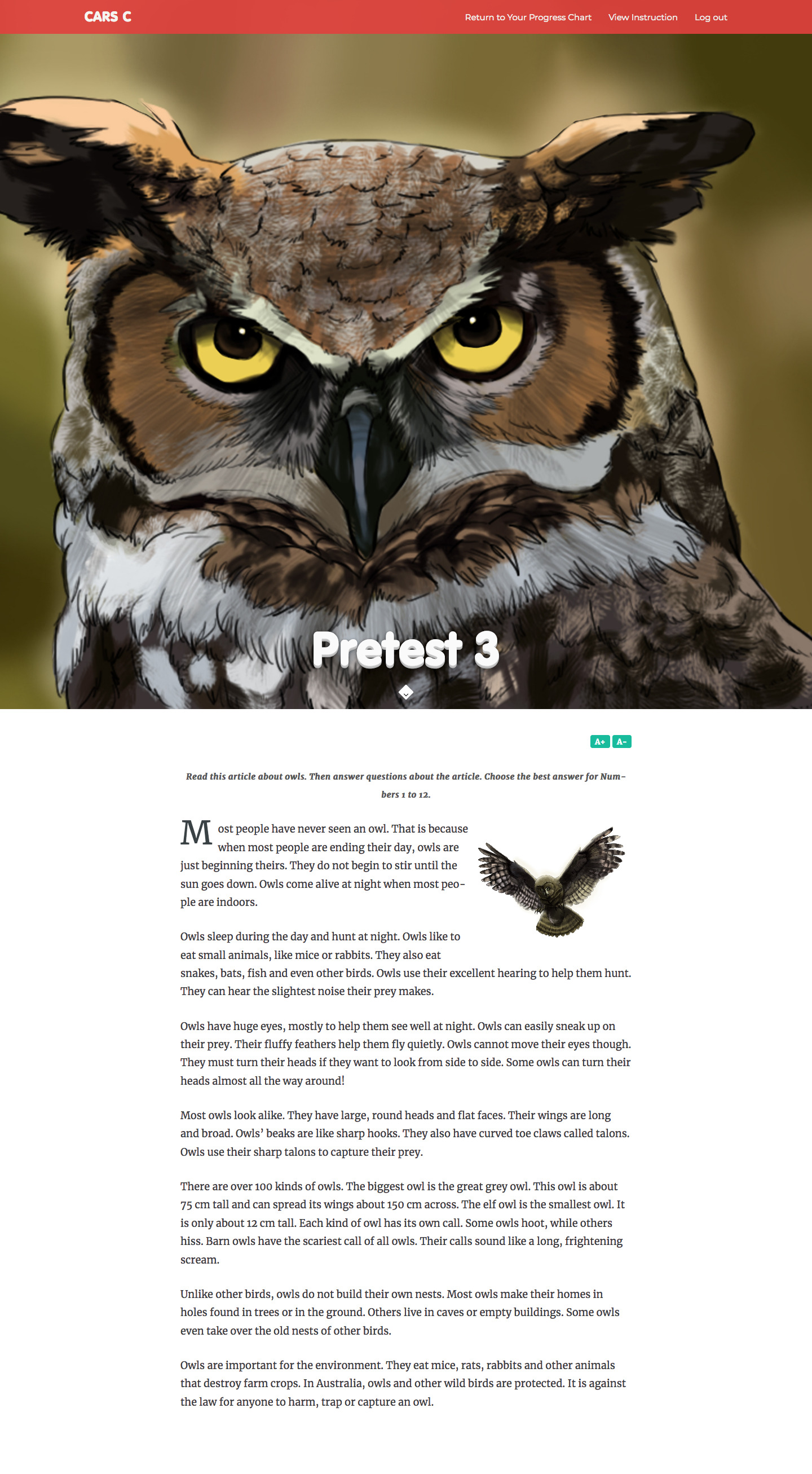 ASSESSMENTS
The assessment is an interactive reading test. To start off the reading test, children will read the story that is provided and answer all of the questions. Once they have answered all of the questions, the Submit button will be highlighted in green and the children will be able to submit their reading tests. If children are unsure of the answers and would like to read the passage again, they can return to the passage by clicking on the Return button.
Please note: When answering the questions, children do not need to wait for the grey bubble to turn to orange, as the system will automatically and progressively save for them. If you experience any difficulty when clicking on the Submit button, please refresh the page.
You can click on the A+ for larger font size or A- for smaller font size, both located just above the story.
By default, the application will use High Performance Mode. If the children experience any performance issues it is recommended that they go to their My Account section. To go to the My Account page, click on the Return to Your Progress Chart and click on the sidebar menu on the left hand side.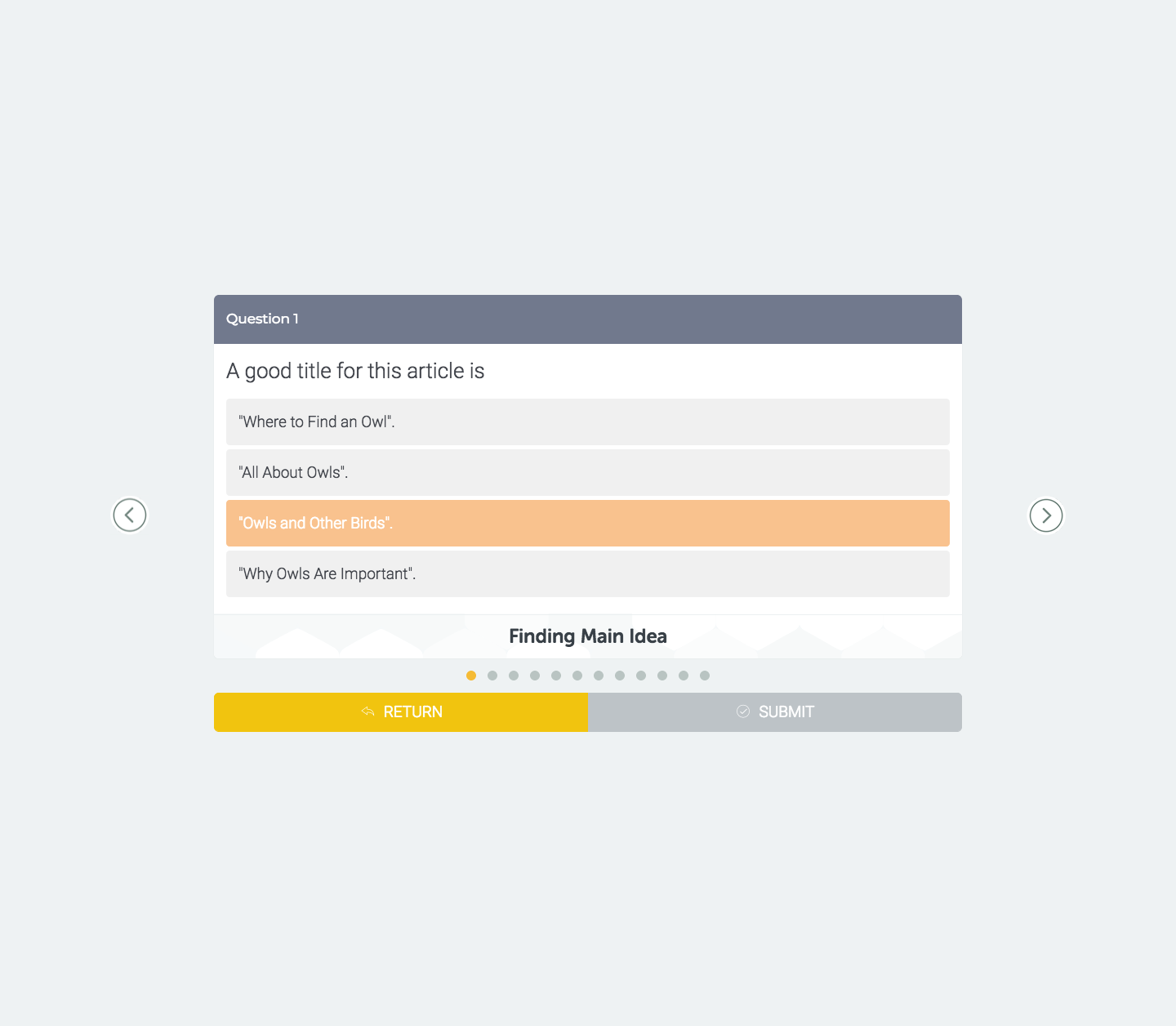 High Performance Mode
By utilising the High Performance Mode, the tests appear as a side-scrolling, overlaid view. Upon answering each item, children can proceed to the next question by either clicking on the right arrow or swiping to the right, and to go to the previous questions, the children can either click on the left arrow or swiping to the left. The High Performance Mode are intended for newer devices, as it may consume more computer resources in comparison to the Low Performance Mode.
Grey bubbles listed below the question refer to the number of questions in that test. The bubbles will be coloured in orange, when an answer is selected. The child will also know if they have missed answering a question by looking at the colours, and they can easily jump to that question by clicking on the greyed out bubbles.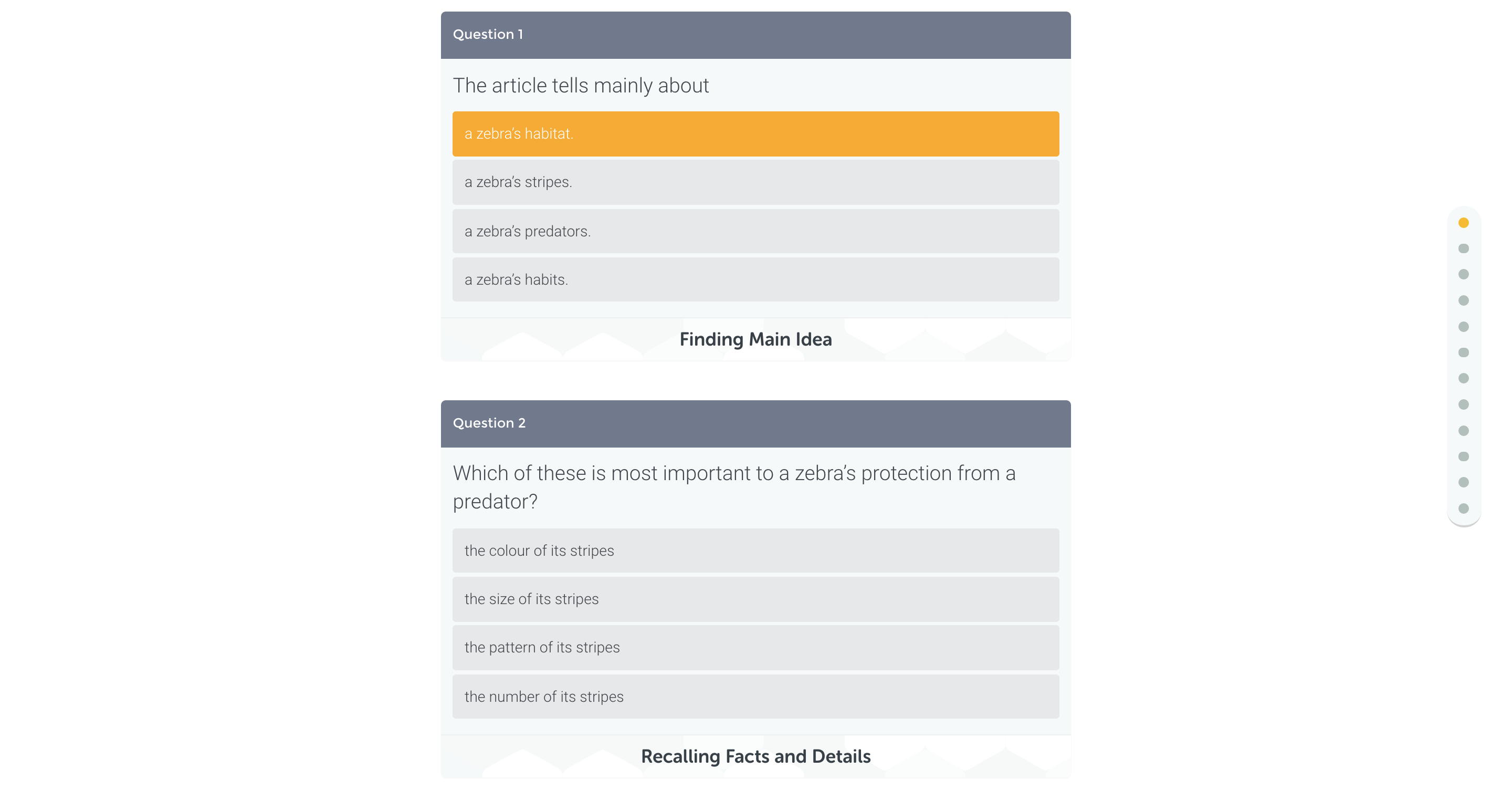 Low Performance Mode
Low Performance Mode is designed to cater to outdated devices and browsers, and boost performance. This is achieved by disabling certain on-screen visual effects and displaying the reading test in a single-page format.
On the right hand side you will be able to view the side navigation. This is presented with grey bubbles equivalent to the number of questions. The grey bubbles will be coloured in orange when an answer has been selected. If the child has missed a question, they will be able to easily jump to that question by clicking on the grey bubbles in the side navigation.