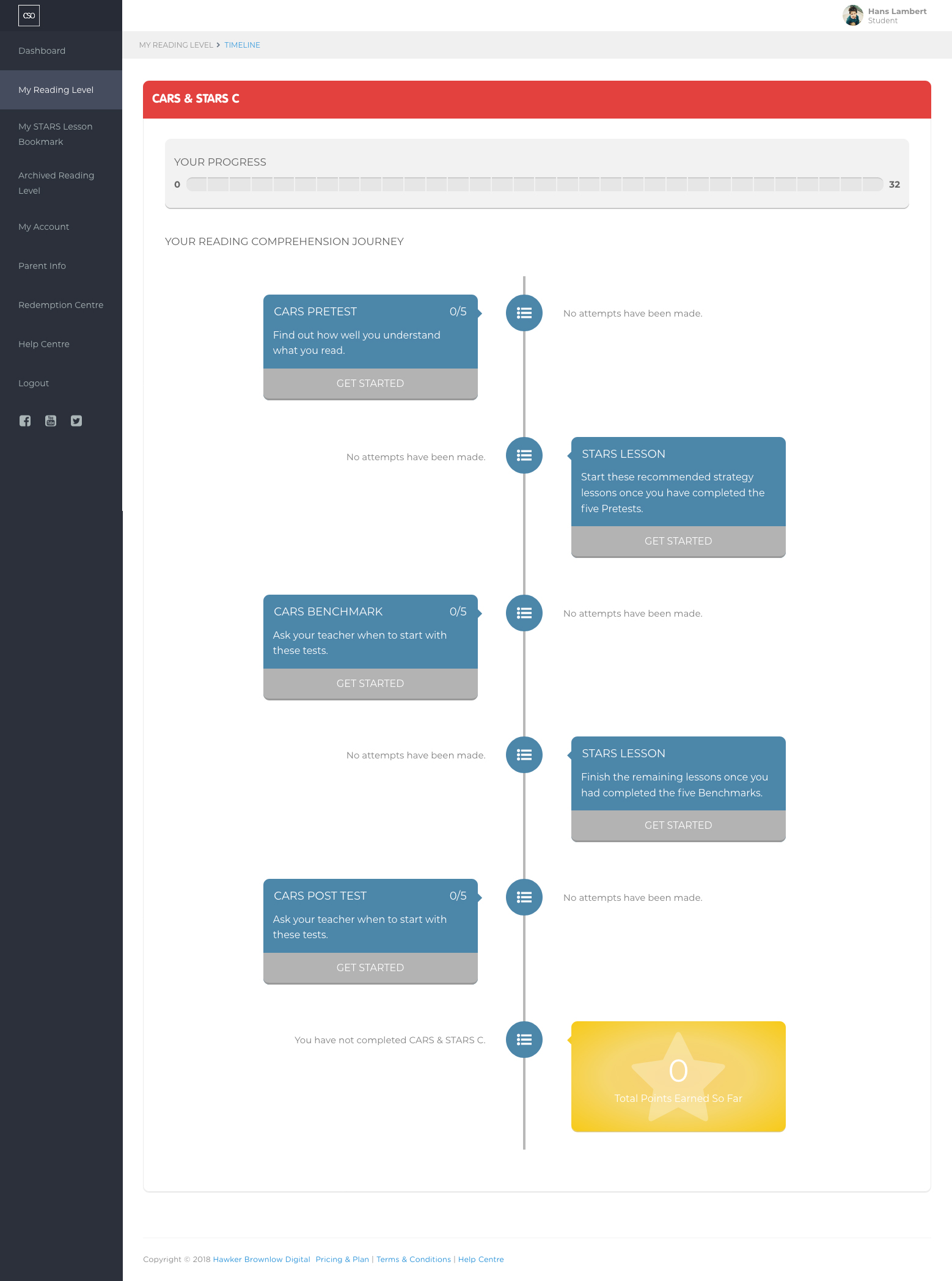 Timeline illustrates each reading level in the program structure to ensure students have a solid understanding of each strategy before moving on to the next level. This timeline also helps the student to review their reading comprehension journey. Here students are able to see their reading comprehension roadmap. The Timeline will clearly show the student's progress and where they are at right now versus where they began.
The Timeline is broken down into five sections: CARS Pretest, STARS Lesson, CARS Benchmark, STARS Lesson and CARS Post Test.
CARS Pretest: Complete the five Pretests in the CARS Series using CARS & STARS Online to diagnose strengths and weaknesses in the 12 reading comprehension strategies. Ideally complete one per day, as promptly as possible.
STARS Lesson: After completing Pretest diagnostics based on the students' areas of need, six specific strategy lessons will be automatically recommended for the students to complete in order to remediate areas that need reinforcement. After the students complete these lessons, they may conclude the review lessons by answering 12 selected-response questions that focus on the specific reading strategies.
CARS Benchmark: Complete the five Benchmark tests in CARS & STARS Online to monitor progress. Each Benchmark test requires between 45–60 minutes to complete and discuss. Benchmark tests do not need to be completed consecutively.
STARS Lesson: Finish the remaining strategy lessons to build and reinforce basic knowledge of reading strategies. After the students complete the 12 lessons and four review lessons, the students will begin the final review that provides practice in all 12 reading strategies.
CARS Post Test: Complete the five Post Tests in the same way the students have done for the five Pretests. Direct the students to their Student Progress Chart so they can see an overview of their progress from Pretests to Benchmarks to Post Tests. The students can also review their overall star rating.
In each section there is a button that indicates whether students have started their reading tests.
Getting Started indicates that students have not started their reading levels yet.
Continue indicates that students are in the process of doing that part of the reading level.
Review indicates that students have fully completed the whole reading level for that section.