This option allows you to view, add, change or remove existing students.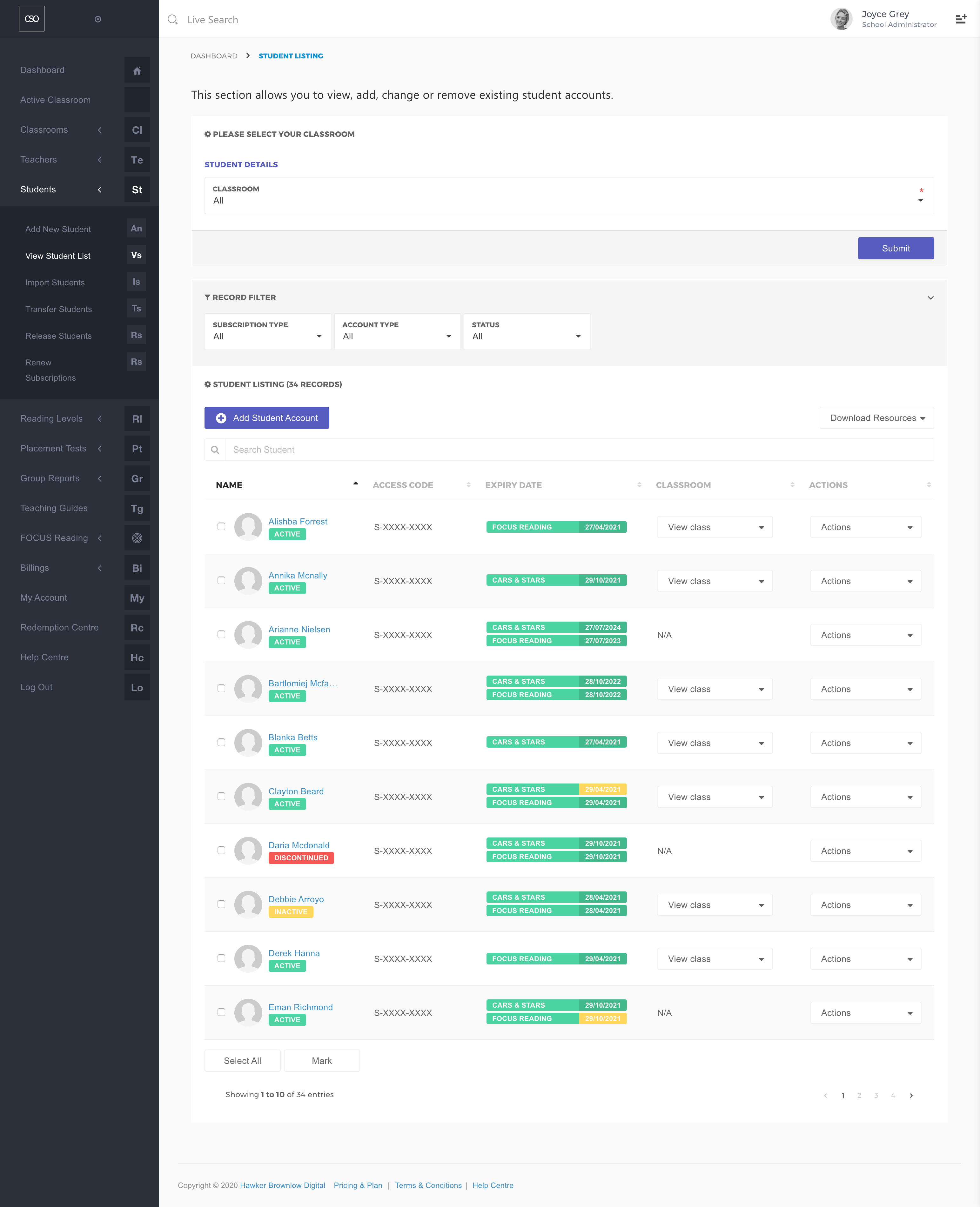 STUDENT DETAILS
Classroom: You can either select All, or a classroom.
Subscription Type: Choose the specified subscription type from the following options: CARS & STARS, FOCUS Reading or All.
Account Type: Choose the specified type of accounts that you wish to view: i.e. Subscription, Trial, Virtual or, if you wish to view all, please select the All option.
Status: Choose the status of the class that you wish to view: i.e. All, Active, Inactive, Virtual, Expired or Discontinued.
After selecting the options, the students associated with the selected Classroom, Account Type and Status will be listed in the Student Listing.
STUDENT LISTING
Add a new Student account by clicking on the Add Student button under Student Listing.
A Search field is available for you to search for a particular student by either typing in their first or last name.
Each student's details are displayed for you: i.e. Access code, Status, Expiry Date and Actions.
You are able to select either a student or multiple students and change their current account status to Activate, Deactivate, Discontinue or Delete by selecting the students through clicking on the checkbox to the left of each student's name. Click on the Mark button found at the bottom of the list. Please note the following:

Deleting a student account permanently deletes all data for that student and their administered assessments, including their Student Subscription. Please select Delete All only if you want to permanently delete the selected students from the system.
If you want to retain your student data, please select Discontinue All to update the student's status to Discontinued. The discontinued students will be removed from all their allocated classes.
For Virtual Student accounts, you are only allowed to Discontinue All or Delete All.
Please note: When you have Discontinued your students, to view them again in the Student List, set the Classroom field to All, your preferred Account Type, and Status to All or Discontinued.
For individual actions, such as Edit Student or Delete Student, please click on the Actions button, located at the right of each student account.